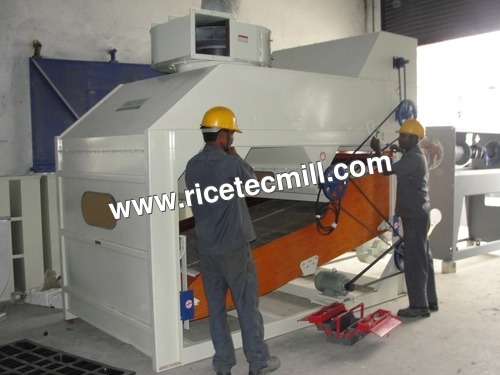 Product Description
At RICETEC greatness is a perfect as well as an on-going measure of execution and fittings for complete grain refinement. We are pleased to present ourselves as the quickest developing organization in India. RICETEC is the first to accomplish ISO 9001: 2008 arrangement Quality Standards for assembling unit and fits in with the global quality gauges, which have got to be industry benchmarks. We additionally have acquired CE checking. Our organization is affirmed by European Union for the quality benchmarks we keep up.

In a Mill, machines are divided into four different sections, as follows:
Grain CleaningMachine

Paddy Separator


Grain Polisher

Seed Grader
| | | | |
| --- | --- | --- | --- |
| Grain Cleaning Machine | Paddy Separator | Grain Polisher | Seed Grader |
| Paddy Precleaner | Rubber Sheller | Grain Whitener | Length Grader |
| Destoner Machine | Husk Aspirator | Mini Silky | Multi Grader |
| Paddy Cleaner | Gravity Separator | Super Silky | Gyro Sifter |
Cleaning Section: Paddy which is coming from the farmers or from field, will have many impurities such as dust, grass, mud lumps, Strains, stones, etc., which are to be removed and clean paddy is to be given for milling process.
PADDY CLEANER
RMPL features

Competitors features

Advantages




It has two stage sieving system 1. Drum Sieve 2. Dimple Sieve

It has two stage sieving system

1.Impurities like, sticks, twines, straws,& Mud lumps, Over size stones and other Impurities

2.Negligible loss of paddy in under size stones.

Provided In-let hopper with spl floppers

No provision

Uniform flow of paddy to the full face of the drum sieve, for better performance

Provided In-built cyclone blowers with fine adjustable flappers with duct hose pipes

No provision for pipes

For Dedusting & De-stoning

Easy to dismantle sieve frame

Sieve frame is not easy to dismantle

Easy maintenance

In-house designed and manufacturer heavy duty Pulleys

Bought out

To avoid slippery of V belts, play, and vibration. Longer life and low maintenance.

Single motor 3 hp/960 rpm

Same

Single motor to drive Eccentric, Blowers, Drum Sieve. (Conventional system)

Paddy outlet hopper made of SS 202 grade with PVC coating

MS hopper

Longer life

Special outlet dismantable bagging hopper

Same

For collection of impurities like Straws, Twines, Sticks, Mud Lumps in collection bag to avoid spilage

Low Price

High Price

Economically priced
Enter Buying Requirement Details
We Are Mainly Deals In Telangana, Andhara Pardesh, Karnataka.